The sixth book in the First Cut Poetry series, Dead Birds & Sinking Ships (Happy Little Tales of Melancholy Madness) by John Bowie, was released one year ago.
To celebrate, I've had a chat with John about his incredible poetry collection, what he's been up to since Dead Birds & Sinking Ships was released, and his plans for the future.
HLR: Tell us about Dead Birds & Sinking Ships (Happy Little Tales of Melancholy Madness)?
JB: The double-barrelled title was as suggestion of things that once flew, or sailed, now sunk and dead. The poems were inspired by the fragility of life and its transient precious moments, learning to embrace them. Seeing beauty in everything, even in pain and ugliness. Despite its dark insights and isolation, there is humour and punchlines. It wasn't meant to be depressing.
Sum up the main themes in your collection in 10 words or less.
Existential cathartic outpourings under the duress of Covid lockdowns.
What is your favourite poem(s) in the collection and why?
The last few see the light at the end of the tunnel, take a few steps out of that darkness into a less cynical way to reflect on experience, people and places. They could have been the start of the collection I'm working on now.
pull the trigger

where is he now?
just pull the trigger, will you,
so I don't have to.

he'd jumped out,
an arm around my neck,
a barrel to my temple.

his feigned aggression faded to fear
he could see I welcomed it.
he soon wished he hadn't pulled the joke
and, I wished he wasn't carrying blanks.

© John Bowie / Dead Birds & Sinking Ships (2021)
What are your writing habits?
When an idea or line comes I have to get it down. I have been known to glaze over and seize up until that can happen. Accompanied by the line from whoever I'm with: 'Just fucking get your phone or note book out then…' My wife occasionally sends me out to get head space and write. She knows it's essential to my well-being. Sometimes I go further afield and make a day or two of it. Often gonzo style and go back to places, settings and memories and live the characters out and eavesdrop on dialogues around me. I'm trying to kick myself outta bed earlier to get some writing in then. I'm just not an early riser though.
Name 3 books: 1 book from your childhood, 1 you're currently reading, and 1 you're looking forward to reading.
1. Roald Dahl's, Revolting Rhymes
2. A Tomb With A View (The Stories and Glories of Graveyards) by Peter Ross
3. B. F. Jones's, Something Happened at 2 a.m.
What's one poem you wish you'd written?
Something ritualistic. Address to a Haggis, Lord's Prayer…or, Spike Milligan's grave stone. It's the most beatifully poetic, funny and open to interpretation piece, and set in stone. It makes me smile now just thinking about it: 'I told you I was ill.'
Tell us about your future writing plans.
I've gone back to my roots. Exploring dirty-realism and strangely uplifting ideas. I'd a brit-grit badge for a while. It isn't really me, or what I'm all about. Now, I'm enjoying creating lines, prose and stories without that straight jacket. Most of all without any expectation of being published and read. Or accepted, other than by the ideas themselves, family and myself—it's very liberating.
*
About the poet
John Bowie was born in Northumberland, Northern England and studied in Manchester in the '90s. He has published poetry, novels and short stories. He now lives in Bristol, U.K.
John is the founder and editor-in-chief of Bristol Noir.
His books include Weston-super-Nightmare: A Hellbent Riff Raff Thriller  and the Black Viking Thriller Series, Untethered: Dreams of Future Memories, Transference: Love + Hate in Rain City  and Division: The Crows Over Cross Hill.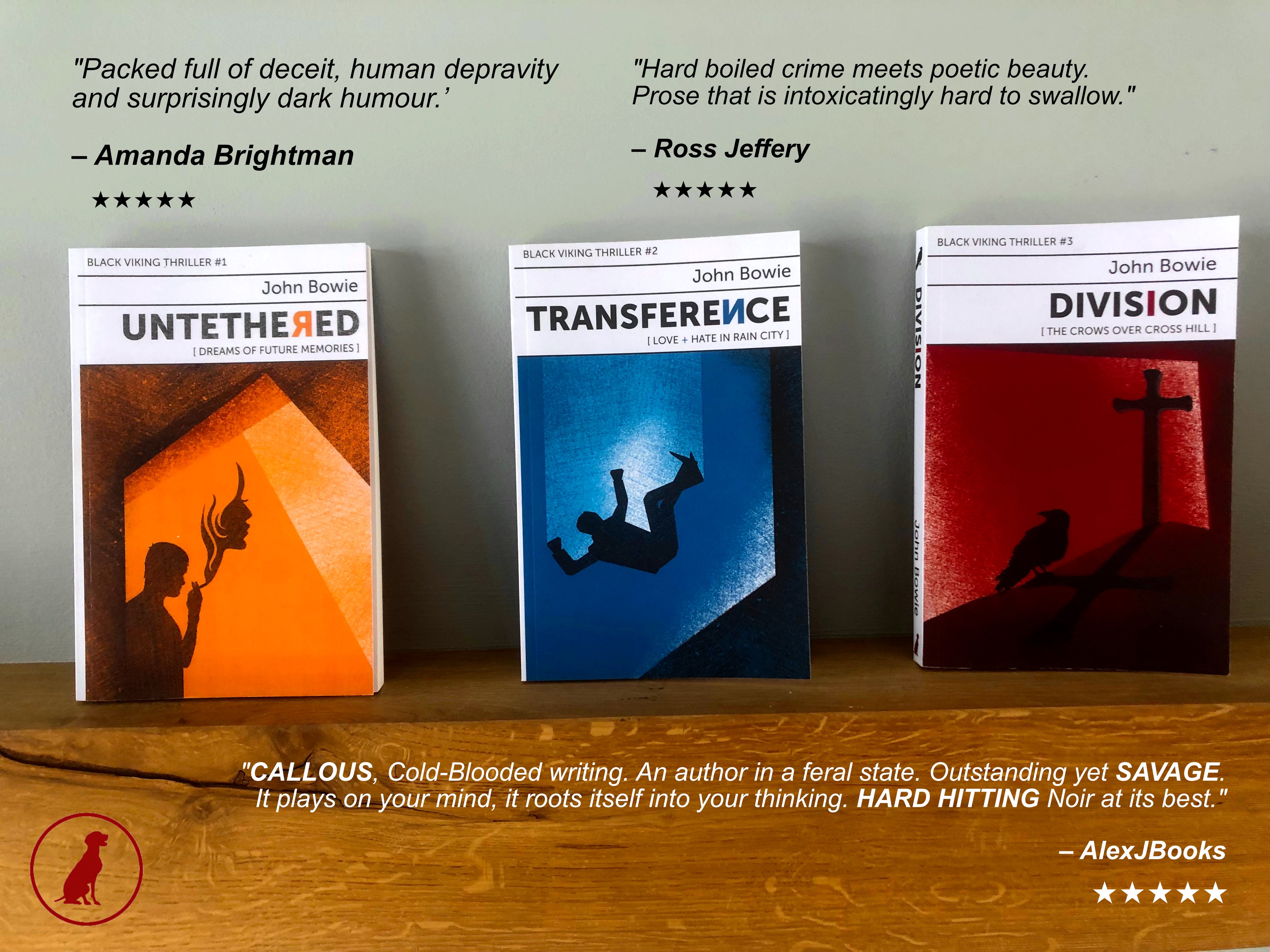 *
Get your copy of Dead Birds & Sinking Ships.
Read my review of Dead Birds & Sinking Ships.
Check out the other books in the First Cut Poetry series.
Follow John Bowie on Twitter: @JohnBowie
Follow Bristol Noir on Twitter: @NoirBristol
Follow me on Twitter: @HLRwriter